Cause infertilità maschile e fattori a rischio
Le cause di infertilità maschile più comuni sono rappresentate da alterazioni della produzione o del trasporto dello sperma e dalla diminuzione del testosterone (ipogonadismo).
La sterilità maschile può derivare da una patologia già presente alla nascita (congenita) o può svilupparsi successivamente (acquisita). Cause comuni di sterilità maschile includono le seguenti:
Chemioterapia
Anomalie nell' apparato genitale (testicolo non disceso o assente)
Presenza di ostruzioni nell' apparato genitale
Malattie varie (fibrosi cistica, anemia falciforme, malattie sessualmente trasmissibili)
Disfunzioni ormonali (causate da alterazioni dell'asse ipotalamo-ipofisiario)
Infezioni (per esempio prostatite, epididimite , orchite)
Traumi (per esempio un trauma testicolare)
Farmaci (antipertensivi, FANS)
Eiaculazione retrograda (circostanza patologica in cui lo sperma refluisce nella vescica durante l'eiaculazione)
Malattia sistemica (ad esempio febbre alta, infezione, malattia del rene)
L'eiaculazione retrograda si verifica in caso di danno ai muscoli o ai nervi del collo della vescica e determina la mancata chiusura dello stesso durante l'eiaculazione.
Può essere causata da chirurgia della vescica, da un difetto congenito dell'uretra o della vescica o da una patologia neurologica. Una eiaculazione diminuita o "asciutta", oppure una urina di colore grigiastro successiva ad una eiaculazione sono i sintomi di questo problema.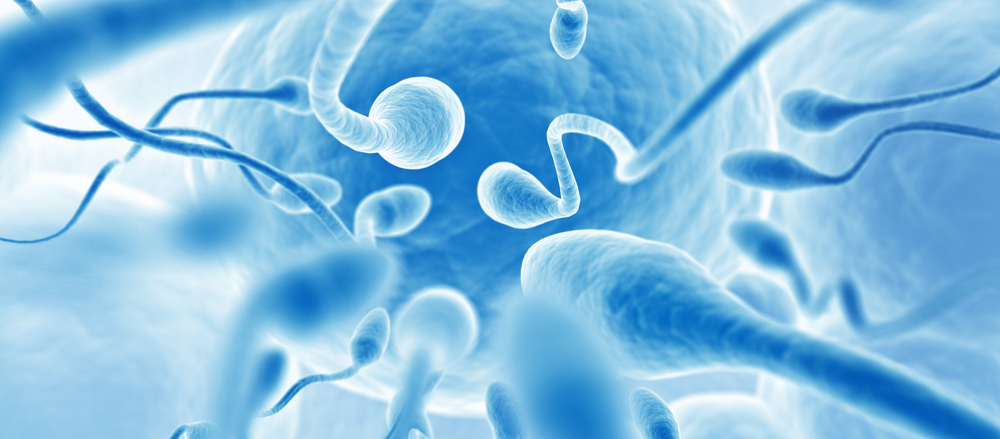 Mancanza di testosterone (torna su)
L'ipogonadismo può essere presente sin dalla nascita (congenito) o può insorgere successivamente (acquisito). Le cause dell'ipogonadismo sono distinte a seconda di quale processo dell'asse ipotalamo – ipofisario sia interessato:
Ipogonadismo primario: l'alterazione responsabile è di pertinenza testicolare
Ipogonadismo secondario: l'alterazione responsabile è di pertinenza ipofisaria
Ipogonadismo terziario: l'alterazione responsabile è di pertinenza ipotalamica
La causa congenita più comune è la sindrome di Klinefelter. Questa patologia è causata da un cromosoma X supplementare. Provoca sterilità maschile, peli corporei e capelli radi, anomalo ingrandimento del seno (ginecomastia) e testicoli piccoli rispetto alla norma.
La diminuzione del testoterone può essere provocata da altre malattie genetiche come il deficit dell'LHRH (ormone ipotalamico) o dell'FSH come per esempio nella sindrome di Kallmann.
Altre cause congenite comprendono l'assenza dei testicoli (anorchia) e la mancata discesa dei testicoli nello scroto (criptorchidismo).
Le cause acquisite della mancanza di testosterone comprendono le seguenti:
Chemioterapia
Danno vascolare all'ipotalamo o all'ipofisi
Malformazione ghiandolare
Trauma cranico che compromette il funzionamento dell'ipotalamo
Infezione (per esempio meningite, sifilide, parotite epidemica)
Deficit isolato dell'LH (per esempio sindrome dell' "eunuco fertile")
Radioterapia
Trauma testicolare
Tumori ipotalamici o ipofisiari
Bibliografia:
Aksglaede, L., et al. Testicular function and fertility in men with Klinefelter syndrome: a review. Eur J Endocrinol, 2013. 168: R67.
Andersson, A.M., et al. Impaired Leydig cell function in infertile men: a study of 357 idiopathic infertile men and 318 proven fertile controls. J Clin Endocrinol Metab, 2004. 89: 3161.
Berger, R., Epididymitis. In: Holmes KK, Mardh PA, Sparling PF et al. (eds). Sexually Transmitted Diseases, in Sexually Transmitted Diseases. 1984, McGraw-Hill: New York.
Berkowitz, G.S., et al. Prevalence and natural history of cryptorchidism. Pediatrics, 1993. 92: 44.
Brugh VM, et al.. Male factor infertility: evaluation and management. Med Clin North Am 2004; 88: 367-385.
Buvat, J., Glossaire. [Disruptions in ejaculation] In: Buvat J, Jouannet P (eds). [Ejaculation and its Disruptions.], in Ejaculation and its Disruptions. 1984, SIMEP: Lyon-Villeurbanne.
Chillon, M., et al. Mutations in the cystic fibrosis gene in patients with congenital absence of the vas deferens. N Engl J Med, 1995. 332: 1475.
Comhaire, F., et al. Diagnosis of accessory gland infection and its possible role in male infertility. Int J Androl, 1980. 3: 32.
Crich, J.P., et al. Infertility in men with retrograde ejaculation: the action of urine on sperm motility,and a simple method for achieving antegrade ejaculation. Fertil Steril, 1978. 30: 572.
Donat, R., et al. The incidence of cystic fibrosis gene mutations in patients with congenital bilateral absence of the vas deferens in Scotland. Br J Urol, 1997. 79: 74.
Drake, M.J., et al. Absent vas deferens and ipsilateral multicystic dysplastic kidney in a child. Br J Urol, 1996. 77: 756.
Dul, E.C., et al. The prevalence of chromosomal abnormalities in subgroups of infertile men.Hum Reprod, 2012. 27: 36.
Giamarellou, H., et al. Infertility and chronic prostatitis. Andrologia, 1984. 16: 417.
Gracia, J., et al. Clinical and anatomopathological study of 2000 cryptorchid testes. Br J Urol, 1995. 75: 697.
Hadziselimovic, F., et al. Infertility in cryptorchidism is linked to the stage of germ cell development at orchidopexy. Horm Res, 2007. 68: 46.
Hendry, W.F. Disorders of ejaculation: congenital, acquired and functional. Br J Urol, 1998. 82: 331.
Irvine DS. Epidemiology and aetiology of male infertility. Hum Reprod 1998; 13 (suppl.): 33-44.
Jacobsen, R., et al. Risk of testicular cancer in men with abnormal semen characteristics: cohort study. BMJ, 2000. 321: 789.
Jequier, A.M. Obstructive azoospermia: a study of 102 patients. Clin Reprod Fertil, 1985. 3: 21.
Kolon, T.F., et al. Evaluation and treatment of cryptorchidism: AUA guideline. Journal of Urology, 2014. 192 (2): 337.
Krausz, C., et al. Genetic risk factors in male infertility. Arch Androl, 2007. 53: 125.
Lanfranco, F., et al. Klinefelter's syndrome. Lancet, 2004. 364: 273.
Leib, Z., et al. Reduced semen quality caused by chronic abacterial prostatitis: an enigma or reality? Fertil Steril, 1994. 61: 1109.
National guideline for the management of epididymo-orchitis. Clinical Effectiveness Group (Association of Genitourinary Medicine and the Medical Society for the Study of Venereal Diseases). Sex Transm Infect, 1999. 75 Suppl 1: S51.
Pryor, J., Erectile and ejaculatory problems in infertility. In: Hargreave TB (ed). Male Infertility, in Male Infertility. 1997, Springer Verlag: Berlin.
Purvis, K., et al. Infection in the male reproductive tract. Impact, diagnosis and treatment in relation to male infertility. Int J Androl, 1993. 16: 1.
Skakkebaek, N.E. Carcinoma in situ of the testis: frequency and relationship to invasive germ cell tumours in infertile men. Histopathology, 1978. 2: 157.
Skakkebaek, N.E., et al. Testicular dysgenesis syndrome: an increasingly common developmental disorder with environmental aspects. Hum Reprod, 2001. 16: 972.
Staessen, C., et al. PGD in 47,XXY Klinefelter's syndrome patients. Hum Reprod Update, 2003. 9:319.
Wang, R., et al., Ejaculatory dysfunction. In: Comhaire FH (ed). Male Infertility:Clinical Investigation. Cause, Evaluation and Treatment, in Male Infertility:Clinical Investigation. Cause, Evaluation and Treatment. 1996, Chapman Hall: London. WB Saunders: Philadelphia.
Weidner, W., et al. Relevance of male accessory gland infection for subsequent fertility with special focus on prostatitis. Hum Reprod Update, 1999. 5: 421.
Weidner, W., et al. Semen parameters in men with and without proven chronic prostatitis. Arch Androl, 1991. 26: 173.
Weidner, W., et al., Orchitis. In: Knobil E, Neill JD (eds) Encyclopedia of Reproduction, in Encyclopedia of Reproduction. 1999, Academic Press: San Diego.
Wolff, H., et al. Impact of clinically silent inflammation on male genital tract organs as reflected by biochemical markers in semen. J Androl, 1991. 12: 331.
Yavetz, H., et al. Cryptorchidism: incidence and sperm quality in infertile men. Andrologia, 1992. 24: 293.